Strand Fitness is excited to welcome Personal Trainer Nicole to it's ever growing Fitness Family.  Nicole runs her own Personal Training business "Nourished Life PT" right here at Strand Fitness CBD.

Here's a little more about Nicole;
Nicole Ellis
Qualifications
Certificate 3&4 in Fitness
IAAF Kids Athletics Coach
AUSTSWIM Teacher of Swimming and Water Safety
About Me
Hi, my name is Nicole.
I am a Mum to 2 teenagers and a toddler who all keep me on my toes! I have lived in Townsville for nearly 20 years and was originally from Coffs Harbour, NSW.
The kids and I are Cowboys fans and my older son and daughter play rugby league. Our weekends are full of footy, mud and family time 🙂 Hectic, but I wouldn't have it any other way 🙂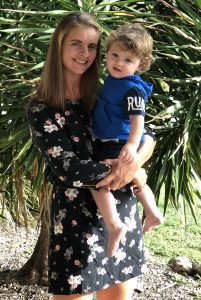 Why did you choose a career in the Fitness Industry?
My own weight loss journey has led me to become a Personal Trainer. The more I learnt, the more I wanted to share the knowledge and help others to successfully turn their lives around and start really living!
My own struggle
When younger, I was always the sporty kid. However once I finished school sports slowly disappeared. Then I started to struggle with maintaining my weight, then once I had my first 2 kids I really put on the kilos. For the better part of 20 years I worried about my weight and tried every diet known to man! I was blessed a few years back to fall pregnant with my now toddler and I decided enough was enough! I had to strip away years of bad dieting advice and made the decision to change my life.
I researched nutrition and exercise and loved it so much I enrolled to study Fitness. I have never looked back and am feeling the best I ever have!  Overall, I have released over 50 kgs, I went from a size 20 to a size 8. I have tonnes of energy, my lifelong depression disappeared and my cravings and addictions are no longer screaming at me at 3pm! 
Nourished Life PT
My goal as a trainer is to help my clients change their habits and routine with realistic, lifelong goals. I love teaching women about lifting weights for amazing health benefits and pushing them so they can see their own potential. Watching people grow in confidence and improving their life is amazing and makes me so proud 🙂   
I am now here to help YOU!  I have been there – I know how hard it can be, especially without support. I understand the issues with having to lose large amounts of weight, and I know all the excuses too! haha. So come and say hello, or get in touch with me and we will do this together 🙂
Services: 
1-on-1 personal training
Small group personal training
24/7 Support
Nutrition advice
Fitness Assessments