Strand Fitness is once again expanding it's Team and is proud to welcome another Personal Trainer to it's ever growing Fitness Family.  Without further adieu, let us introduce you to Personal Trainer Shaun Mealy of Paradigm Fitness;
SHAUN MEALY
Preferred Training Style – Weight Loss & Building Lean Muscle Mass
Qualifications
Certificate 3&4 in Fitness
Specialises in:
Building Lean Muscle Mass
Weight Loss
Assessing & Improving Posture
About Me
Hi my name is Shaun,
I have been married to my lovely wife for 8 years. We have two little girls aged 3 and 2 they are both very different but with plenty of attitude. The girls keep us on our toes and provide us with plenty of laughs.
I lived in Townsville between 2008- 2012, before moving to Mackay. We moved back to Townsville last year in 2017 after a 5 year stint in Mackay.
I joined the Royal Australian Air Force straight out of school. I enjoyed  the physical activity, fitness and travelling the lifestyle provided. In the Air Force, I learnt that strength doesn't come from what you can already do but overcoming what you once couldn't. I left the RAAF to become a Personal Trainer and to study my degree in Exercise Science.
As a teenager I was introduced to jet skiing and have loved it ever since, the faster I can go the better. In fact,  I pretty much love most water sports.
I would describe myself as an approachable friendly guy who is hard working, highly motivated & professional and someone who definitely enjoys life!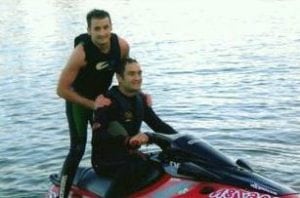 Why did you choose a career in the Fitness Industry?
I chose a career in the Fitness Industry as I genuinely enjoy helping people. I love watching clients transform, as they become fitter, stronger and healthier. This in turn assists one to improve their overall lifestyle, therefore allowing them to live their lives to the fullest.
I am also a Personal Trainer for the 'Live Life Get Active' program. This program  aims to tackle to obesity crisis in Australia by running outdoor sessions, free to the community.
Shaun will be offering both One on One private Personal Training sessions, Small Group Training sessions as well as Gym programs and Assessments. Paradigm Fitness also has a "Special" Introductory Personal Training Offer to all new clients.
Click here to find out more about Shaun or our Special Introductory PT Pack