Have you seen our Myzone TV screens at both our Strand Fitness locations?
Do you already know about the MyZone Fitness Tracker belt's benefits and the information it can give you about your workouts, health and fitness?
Below we explain what the Myzone belt is, what it can do and how you can use it most efficiently in our gyms!
WHAT IS MYZONE?
You'll need the Myzone belt to track your fitness. Compared to other fitness trackers, the belt is capable of showing your intensity during a workout and helps to get the most out of your group fitness sessions!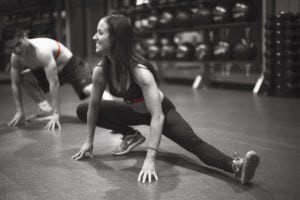 Myzone is an effort tracking system that uses wireless and cloud technology to monitor your activity rates. It displays:
Heart rate
Calories
Time exercising
The Myzone system calculates your numbers into Myzone Effort Points (MEPs). 1 MEP shows your workout's effort and rewards you with monitoring your success during a workout and – of course – afterwards to see your process.
Where can I see my results?
You can see your real-time results in our gyms in Townsville, just have a look out our TV screens! Check your results in the Myzone App (available for Apple and Android) and track daily, weekly, monthly or yearly results and the progress towards your goals.
You can use the MyZone belt anywhere. You can always check your live progress via the app if you are not in one of our gyms.
So basically, you do your workout while our TV screens monitor intensity – based on your effort. This makes your workouts more efficient and helps our instructors to push you to the right zones!
How do I get started?
You can purchase the Myzone belt at both our locations at CBD and North Shore. Just come in and visit our reception!
You can also have a look at the official Myzone homepage or ask our friendly staff for more information and how to set up your belt. 
CBD Timetable North Shore Timetable Contact Us