Instructor in the Spotlight – Jackie

Here at Strand Fitness we are blessed to have so many talented Group Fitness Instructor as part of our Team. We'd like you to get to know a little more about Group Fitness Instructor, Jackie!
Hey there!  My name is Jackie and I am one of the Group Fitness Instructors at Strand Fitness.  I currently teach

LES MILLS BODYSTEP

and BODYPUMP classes at the North Shore gym, and am also a qualified

BODYATTACK

instructor.  I have been at Strand Fitness since the North Shore gym opened in 2014 and I absolutely love teaching there!

Full Name: Jackie Althofer
About me
As well as instructing Group Fitness classes, I am also an accredited Exercise Physiologist and I work 4 days per week as a Rehab Case Manager for the ADF Rehab Program.  Up until a few months ago, I was an "army-wife" for almost 15 years, but my husband recently discharged from the ADF.  We have two gorgeous kids, an 11-year-old boy and a 7-year-old girl, who keep us very busy with their own sporting activities!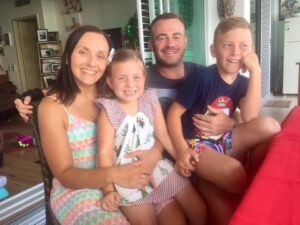 Why Group Fitness?
I would like to tell you a little bit about my own group fitness journey because it is the reason that I am so passionate about the LES MILLS programs. I have experienced first-hand how much these classes can positively impact a person's life! 
As a kid, I was always very active, dancing for 2-4 hours a day, 5-6 days a week, and playing every sport available to me. However, when I finished school and went to university, I found it difficult to find a type of exercise that I enjoyed enough to stick with.  As a result, I gained weight and lost a lot of self-confidence.  I was studying Exercise Physiology and obviously knew the importance of regular physical activity. At the time, I found most popular exercise regimes boring and lonely, and it took me years to find a form of exercise that I actually wanted to do.  After trying many different types, I discovered LES MILLS group fitness classes in my mid 20's, and I was hooked!  The pumping music, motivating instructors, fun group energy and excellent class structure within all of the programs, really resonated with me and was exactly what I needed.  I re-discovered the active person I used to be and how much I enjoyed moving and challenging my body.  I lost weight and started to feel much more positive about myself.

How I became an Instructor.
Within the first couple of years of participating in these classes, many instructors had encouraged me to complete my instructor training. However I had lost so much confidence, that I never thought that I could get up on stage and instruct a room full of people!  Until one day, my favourite BODYATTACK instructor told me she was leaving and that she wanted me to do my instructor training. This was so that I could take over her classes when she left.  As there were no other BODYATTACK instructors at the gym, it meant we would lose those classes if no one else could take them.  I loved the classes so much and she had so much faith in me, that I forced myself to take a huge leap and completed my BODYATTACK training in 2008. Shortly followed by BODYSTEP training a couple months after.  I started teaching regular classes back then (almost 12 years ago now), added BODYPUMP to my instructor training in 2014. I have loved every challenging minute of it since!
My Passion.
I am so passionate about teaching group fitness classes because I get to help people of all different ages, sizes, activity levels (and the list goes on) to get active, stay active, get fitter and stronger and live a healthier life. All this while having a great time with lots of awesome people!  My aim is to present a fun, yet challenging experience for all of the people in every single one of my classes, so that they want to come back time and time again. I hope that I make a positive difference to people's lives by doing what I love to do!  A perfectionist by nature and determined to be the best instructor that I can be for my participants, prompted me to upskill over the years. Therefore I have completed the LES MILLS Advanced Instructor Module training for all 3 of my programs.  I have achieved "Elite" instructor status for both BODYSTEP and BODYPUMP. In 2018 was selected as a member of the LES MILLS Asia Pacific Presenter Squad for BODYSTEP. This is an achievement that I am extremely proud of. It also means that I now get to present the new quarterly releases to other instructors nationally.
It is really amazing to be able to share my passion and love for these programs at many different levels. I feel so lucky!
I hope you have enjoyed learning a little bit about me and I hope to see you in one of my classes soon.  Don't be afraid to come and say hello and ask me any questions you may have about group fitness. I love to share my passion!